Offering Ferocious Counsel for Victims & Their Families
With over 5.6 million registered tractor-trailers in the U.S., it is no surprise that they are involved in a large number of accidents every year. While any kind of automobile crashes are dangerous, tractor-trailer accidents are particularly disastrous to those involved. Due to their sheer weight and size, drivers of these massive trucks are simply not able to react as quickly as someone might be able to in a normal car.
As a result, the consequences tend to be devastating, not only for property damage but for the lives of fellow drivers as well. Fatalities, let alone excruciating injuries, are far more common in these cases. If you've been injured in an accident, it is important to get in touch with Richard D. Hobbs & Associates P.C. for a free consultation with our dedicated truck accident attorney in Fayetteville.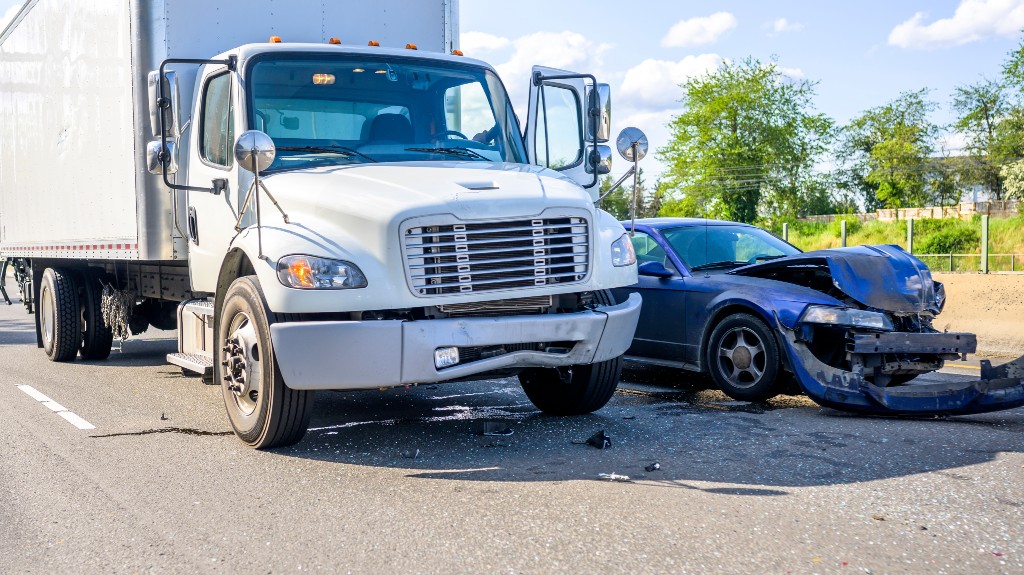 Why Do I Need A Truck Accident Lawyer?
Recovering compensation to cover your medical expenses and pain and suffering after a truck accident without an experienced attorney on your side can be very difficult to say the least. Trucking companies are often backed by top-tier attorneys who are hired to protect their company, and essentially, prevent you from recovering the compensation you deserve. The attorneys at Richard D. Hobbs & Associates P.C. are experienced in handling truck accident claims and can walk you through the entire process, all while fighting for you best interest every step along the way. Call us today to learn more about how we can help you.
Common Causes of Truck Accidents
If you have been involved in a truck collision recently, it is important to determine who is at fault. While it may be that an actual accident occurred, all too often the tragic event could have been avoided if an individual or an entity had not been negligent in following crucial precautions. Whether you are the truck driver or another driver who was hit by a truck, it is critical to establish the facts and gather evidence so that recompense can be fairly allocated for your suffering.
Some of the most common reasons that critical truck accidents occur include such problems as:
Violations of commercial rules: The public is supposed to be protected by the Federal Motor Carrier Safety Administration (FMSCA), which creates safety standards for motor maintenance, as well as the hours worked and logged by drivers. If companies or their workers breach or ignore these standards, many catastrophes can occur.
Insufficient training: Trucking companies have a duty of making sure all of their employers are fully trained before they begin driving. If drivers have not been adequately trained, they may be liable to get into a disastrous accident.
Improper weights: If a manufacturing company does not properly load or weigh the cargo of a truck, it could be too heavy or the weight might be unsafely distributed. Either of these issues could lead to a terrible collision.
Who is Liable After a Truck Accident?
Most often the trucking company is held liable for a truck accident, the main reason for this is these companies are often caught encouraging their drivers to break trucking regulations in order to help save their company time and money. At times, the truck driver is the one held liable particularly if the accident was caused by their negligence, such as driving while under the influence of alcohol. Although it happens less often, there are other parties that can be held liable, like a truck manufacturer or cargo loading team. The legal team at Richard D. Hobbs & Associates P.C. is experienced in investigating truck accident claims and is ready to help you today.
What Are the Hours of Service Regulations?
The Federal Motor Carrier Safety Administration imposes many regulations on truck drivers that aim to reduce the chances of an accident occurring because of how much damage a truck can cause to other motor vehicle in the event of a collision. The hours of service regulation are one of these rules that focus on preventing fatigued driving, since tired driving is a major cause of accidents. According to these rules:
Truck drivers can only work 14 hours in a day
Truck drivers must rest or take meal breaks totaling 3 hours during the workday
Driver must rest for at least 10 consecutive hours before starting a new shift
Truck drivers must take days off work at regular intervals
Protecting Your Rights
Both individual drivers and trucker employees suffer thousands of injuries on the road each and every year in the U.S. If you've experienced an injury on the job or while driving, contact Richard D. Hobbs & Associates P.C. right away. Some of the injuries you might suffer from an accident with a truck may include:
Musculoskeletal disorders
Organ damage
Internal bleeding
Broken bones and joint fractures
Strikes from trailers, hitches, and lift gates
Head and spinal cord injuries
Do not hesitate after you have been involved in a disastrous collision. Immediately seek the reliable counsel of our experienced truck accident lawyer in Fayetteville.